Business is always a risk. Until and unless you start things, you can never be sure whether it is going to give you laurels or not.
When you are considering the franchise business in coffee chains in India then it looks like more than a fantasy.
A serene space, with light music and perfect ambiance attract people to come and sip coffee at your place. But, have you thought how much a coffee business is going to cost you.
Coffee is everyone's favorite and there is no doubt about this. People not only sip a coffee at coffee chains in India, but they also share their emotions with blended cocoa.
So, it is a profession where you are spreading happiness. Coming to the cost of opening a coffee shop in India, in this blog, I am going to tell you that all to you.
There's no hard and fast answer on how much it costs to start a coffee shop. Your costs will depend upon the type of coffee shop you want to open, the costs of retail space in your community and many other variables.
There are many factors that affect a person who desires to open a coffee shop and few of them are listed here.
Factors Affecting Cost of Coffee Shop
There are many relevant factors that affect the overall cost of a coffee house. You should be aware of the same before you get started in the business.
In this blog today, I am going to educate you in each and every aspect regarding coffee shop opening so that, the things may not bother you. So let us have a look at the factors.
Franchise: There are two ways to open a coffee shop. Either you run your coffee chains in India individually or you can take the franchise from a brand.
Both options are great for you. If you want to open a coffee house with your own brand name then it might be it will take you time to get established completely.
But, in case you are doing business under a brand then it can provide you immediate profit.
The franchise fees depend on the brand. If you are partnering with a big brand name then it may cost you lakhs and lakhs of rupees plus you have to share profit with them every month.
Whereas if you are choosing a fast emerging brand such as Brewbakes then you can start the business with a nominal franchise fee of 6 Lakh which will go up to 30 Lakh, depending on the business module you are taking from them.
City: The total cost of establishing a coffee house also depends on the city where you are going to establish your business.
If it is a small city then you can begin with an investment of 10 lakh rupees even. And, in case you want to start your shop at a big Indian city or a metro city then get ready to shed at least 20 Lakh for the overall investment.
Store Location: Location is the most important aspect of a coffee shop business. If you want to choose a peak location like near to the coffee
house, school or office place then you have to pay more.
Whereas offbeat locations will cost you less. It depends on the price of the property you are choosing and the total space where you want to establish your coffee house.
Ambiance: Coffee house is a place where people come out for ambiance. If you are looking for the perfect place then you need to spend a lot on the ambiance.
Depending on the type of interior you want for your coffee shop, you need to invest.
Equipment: Coffee shop needs many types of equipment for operations. Depending on the type of equipment you are choosing, you are supposed to invest in the same.
For instance, you can take a normal coffee machine or a branded one, it all depends on your budget.
Marketing: Running a coffee shop all depends on how you are marketing the property. If you are looking for a good return out of your investment then you are supposed to start marketing from the moment you start the interior of the place.
Building the website, promoting your coffee house online and other means of advertisements and promotions should be used to make people educated about your business plan.
A coffee house is the perfect choice of youth, so make sure you are using the means of ads that would attract them.
Here are some ranges for the costs of opening various types of coffee businesses: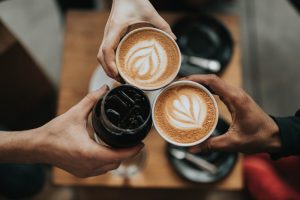 Coffee kiosk: 6 to 10 Lakh

Mobile coffee food truck: 3 to 6 Lakh

Coffee shop with seating: 6 to 30 Lakh

Coffee shop with seating and drive-thru: 15 to 30 Lakh
If you already own a suitable building or have a complementary business such as a bakery, your costs might be much lower.
If you want to add a brew bar to your franchise business of coffee chains in India, add about 2 to 3 Lakh to your initial costs. In addition to start-up costs, you should have cash on hand to cover all of your operating expenses for the first six months.
A Final Takeaway
These are the final factors that affect the cost of your coffee house. As per your need, desire and budget you can change the same.
Rent and build-out costs for your chosen location. As a rule, rent should be no more than 15 percent of projected sales.

Coffee Shop Equipment, including a top-of-the-line espresso machine, espresso and coffee grinders, blenders, gourmet drip in the franchise for coffee chains in India.

Coffee, milk, chocolate, syrups, and other drink ingredients as well as pastries, muffins and other baked goods, which should be no more than 40 percent of projected sales.

Professional fees for architects, attorneys, accountants, and business consultants.

Payroll costs, including wages, benefits, payroll taxes, worker's compensation and costs of payroll processing. As a rule of thumb, payroll costs should be 35 percent or less of sales.

Principal and interest costs (if you plan to borrow money).

Income taxes (usually about 35 percent of operating profit).

Other expenses, including business insurance, supplies (napkins, stir sticks, porcelain cups, etc.), licenses and permits, office supplies, utilities, advertising, and repairs and maintenance.