Coffee is a special drink that helps people wake up, relax and get warm. Besides, coffee has grown a very friendly drink, people get together to drink a cup of it and spend time with each other. That is why coffee shops are gaining huge recognition all over the globe. Being the 6th largest producer of coffee globally, India has always been still associated with tea. But now some Indian people changed their preferences from tea, their national drink, to coffee. Each morning you can see a crowd of coffee lovers in a lot of cafes in the country. Would you like to deal with the coffee business and benefit from it? Here are the 10 Best Coffee Franchises ruling the Indian market nowadays.
Here are the 10 Best Coffee Shop Franchises in India
Brewbakes Cafe and bar
Brewbakes is the most illustrious first Modern Indian café chain, renowned not only for casual & fine dining but the fusion-food competency it introduced to its 150+ outlets globally to revolutionize the coffee café tradition
Brewbakes believe in your growth! This is the reason they have continuously created and tests new processes to drive out success in your franchise business. Brewbakes with having a well-established brand reputation in the café industry has a devoted team of experienced hospitality experts to collaborate with franchisees. We provide comprehensive franchise assistance to furnish excellent food and drinks at all time.
What makes Brewbakes Franchise Unique -:
· Low Investment
· Lower Risk, Higher ROI
· Trustworthy Brand
· Franchise Support
BARISTA
Barista is an Indian chain of espresso bars that serve in South Asia. Barista is a pioneer in coffee culture in India commenced in the year 2000. It is 2nd largest coffee chain in India. Only coffee shop in a franchise model.
INDIAN COFFEE HOUSE
Indian Coffee House is apparently one of the most unique coffee franchise run by a set of working cooperative society members. The unusual thing about this cafe is it is controlled and managed by the workers themselves.
FRESPRESSO
For espresso is a chain of coffee shops menu of which also offers hot beverage, cold beverage, sundaes, food. Not Just About Coffees, it's indeed more. Café Frespresso delivers what every walk-in wants: a fun and happening place that has a uniquely differentiated output line. We believe that sitting in a cafe should be both financially affordable as well as pleasant.
COFFEE-BIKE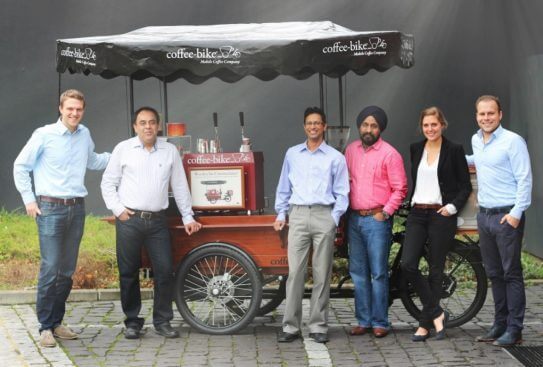 Coffee-Bike is one of the fastest-growing franchise systems in Europe. With 5 outlets in New Delhi, Bangalore and Cochin, Coffee-Bike has strongly proven its idea in India and is now preparing to open franchise all over the country the Indian subcontinent.
BREWBERRYS CAFE
Two friends, small savings, big dreams and Coffee. What started as a humble one store in a peaceful environment, has today become a brand of 109 coffee shops and snack bars. Brewberrys has 'Standard Café' and 'Business Café' formats, working through 'Company Owned' or 'Franchisee Owned' model.
COFFEE DAY XPRESS
Coffee Day Xpress (CDX) is a different concept of a convenient cafe, an idea that feeds the world that`s continuously in transit. At the busy city driveways, between home and office, when there is not sufficient time for a hot cup of coffee or a leisurely snack, many people can trust a Coffee Day Xpress to provide fast, hygienic, convenient to eat and affordable food & refreshments.
GLORIA JEAN'S COFFEE
Gloria Jean's Coffees was established in Australia more than fifteen years ago with the aim to serve the freshest coffee in the country. Today, with coffee houses in 39 markets throughout the world, much has changed within our business except one thing: our enthusiasm for excellent coffee, our commitment to doing business with heart, and our unwavering ambition to be the most loved and appreciated coffee company in the world.
SAFE ZONE
Cafezone, a string of SOUTH INDIAN Coffee Shops, an indispensable part of Ethix Healthcare, a conglomerate group traversing the industrial area for over 20 years, driven by exceptionally trained and well-experienced experts. Cafezone specializes in the growth of a different taste filter coffee from the down south region of Tamil Nadu. Nilgiris is the place where we resource the true form of coffee bean.
THE COFFEE CLUB
The Coffee Club is a coffeehouse-style café chain. Founded in 1989 as a place to get exceptional coffee, the idea involves cafébar/restaurant stores with extended menus and full table service. A place where consumers can enjoy all-day dining in a relaxed contemporary atmosphere. The Coffee Club ensures Good Food, Great Service & the Best Coffee.
Also Read: 20 Facts About coffee You didn't Know
Summary
Article Name
The 10 Best Coffee Franchises in India for 2021
Description
Here is the list of the 10 Best Coffee Franchises in India for 2021 , BARISTA , THE COFFEE CLUB , GLORIA JEAN'S COFFEE , SAFE ZONE these are some of the best.
Author